Urban Vinyl Toys from Kidrobot: Pop Art for a New Generation
Kidrobot owner Paul Budnitz introduced the American public to a trend that took Asia by storm in the late 1990's. Urban vinyl toys are created by leading artists, graffiti artists, fashion designers, illustrators and more, and transcend the category of "toy" to become collectable art in their own right. Kidrobot was on the cutting edge of this trend, and in February 2002 became the first website in the United States to deal exclusively in these designer toys.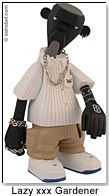 Budnitz recalls being moved by the work of Hong Kong based artist Michael Lau, who had previously been tweaking action figures like GI-Joe by adding an individual hip hop flair to the figure.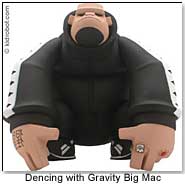 He quickly jetted over to China and Japan and began to form relationships with highly innovative designers like Lau, Jason Siu and other artists who had begun selling their own rotocast designed vinyl toys at large conventions like Toycon. "In Asia there's this whole culture of collecting toys," says Budnitz.
The designer and rotocast urban toy scene was blossoming throughout Asia but lacked a solid western following. "At the time I saw this, there really wasn't much access to it in the States," says Budnitz. Relying on his aesthetic sense of design and creative entrepreneurialism, Budnitz began importing these collectable, urban designer toys into the United States.
Forming genuine friendships with numerous artists, Budnitz helped open up the rest of the world to a market of revolutionary toys via Kidrobot. Kidrobot established itself as a leading retailer of urban vinyl and designer toys, including plush and plastic toys. Even more significantly, by establishing itself as a creator as well as retailer, Kidrobot founded a venue for artistic collaboration. A whole school of Western design surfaced and is still growing. Western and Asian designers mutually influence each other, yet their distinct cultures lend a unique stylistic flavor to the product.
Within the first six months of Kidrobot's existence, Budnitz began working with designers and artists to customize toys for Kidrobot.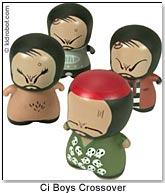 The roster of artists that Kidrobot works with includes global talent, such as United States graffiti artists, comic illustrators, Asian toy producers – ITRangers and Toy2R – and United Kingdom based artist Pete Fowler, to name only a few. Artists typically approach the company with a design that is modified for exclusive distribution by Kidrobot. "That's one of the things that makes us sort of special," admits Budnitz, adding that many Kidrobot designs can't be purchased anywhere else in the world.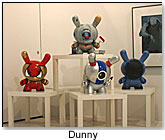 The company's Dunny figure was a collaboration between Budnitz and designer Tristan Eaton. With minimalist features and a round rabbit-like shape, Dunny lends itself easily to custom design. Kidrobot gave out the Dunny figure to more than fifty artists to modify according to their own artistic voice. The artistically modified, one of a kind Dunny creations, will be featured in their own exhibition in New York from May 17-July 17 2004, where the work of leading illustrators, fine artists, graphic artists and animation experts from Dreamworks Animation Studios will be on display.
Dunny is the toy and it is also the canvas. Kidrobot caters to a wide market since their products draw no clear line between toys and art. Budnitz describes Kidrobot products as "a continuum between actual toys and pop art," providing a wide range of appeal as toys or collectable items. "Some people think it's the next wave of Pop art."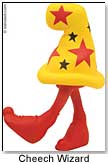 Whether toy or collectable item, some of the figures sold on their website or at Kidrobot stores in Soho or San Francisco have auctioned for as much as $10,000. It's an indication of the volcanic popularity of urban vinyl figures and designer toys enjoyed by Kidrobot. Many of the items created are in limited editions by leading artists and are exclusive to Kidrobot stores. However, some characters like Cheech Wizard were so popular with graffiti and comic artists, says Budnitz, Kidrobot was inspired to make the character into a toy.
The Kidrobot staff makes a conscious effort to remain true to its policy that they only buy what they like. The company does not spend efforts on advertising tactics but relies on a blossoming community of customers who share similar tastes as their own. "We can control the marketing of [a toy], and make stuff a lot edgier now that we know what people really like," says Budnitz.
Their marketing strategy is a grassroots approach that builds on cultivating relationships with artists and clientele. When Kidrobot creates a product or works with an artist to bring a toy to the public, it doesn't have to convince a customer of the desire, explains Budnitz;the following is already there. "It's kind of a natural way to grow." Indeed Kidrobot is growing. The company plans to open three more stores in the next year.