TDmonthly Goes Inside ... Star Toys, Los Angeles

Seeking Fun Keeps Siblings Young


Videography and editing by Carlos Velasco

Leonard Lieberman may be 72 years old, but that doesn't keep him from flipping his (R/C) car on its back whenever he can. Leonard has been playing with toys professionally since May 1968 and has no plans to stop. Watch a video interview with him, below.



Get the Flash Player to see this video.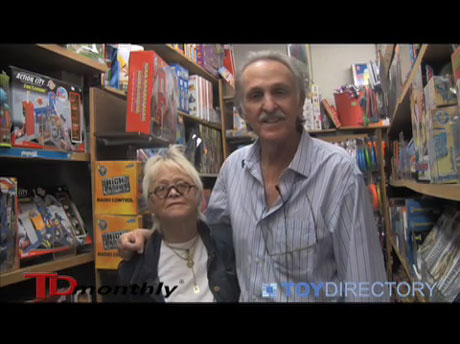 As a young man, he'd worked in the jewelry business with his father, but wasn't satisfied. "I had a friend in the toy biz and he taught me about it," Leonard told TDmonthly Magazine. Some years after he founded Star Toys, his sister Caroline Seymour joined the business.

What's the secret of his success? "I like what I do and I'm good at what I do. I'm the best at what I do," he told TDmonthly bluntly. "I have an interest in people and in making sure they get good products, and that's what I buy."

But he doesn't travel to Toy Fair to do his shopping. "I mainly buy out of catalogs and I have a good feeling for toys. I can pretty much look at something and say if it's a yea or nay."

His customers must trust his judgment, because they keep coming back year after year, generation after generation.

When asked if he has sage advice for new shop owners, Leonard warned, "You can't go into this business and expect to know what to buy. Unless you know something about this business, it isn't easy. You have to have the background."

… Or, learn from the best. Watch Leonard and Caroline show off some of their own winners in the videos below. Please scroll down to see them all:


| | |
| --- | --- |
| Liang Feng Stunt Robot | ATJM Pro Flying Saucer |
Fairy Triad by DUNECRAFT INC.

The Fairy Triad is one of four new additions to the Dome Terrarium line. Learn about the history and lore of fairies with the included fairy-inspired plants (Lobelia, Clover, Evening Star and Thyme), a decorative fairy, multi-colored gravel, fairy bells, stakes, decals and more. Informative instructions detail sprouting and growing methods as well as a plethora of information about fairies and fairy gardens.
Awards: 2012 Dr. Toy Best Classic Toys; 2007 Parent to Parent Adding Wisdom Award; 2007 Seal of Approval from The National Parenting CenterSpecialty Retailers, have this be your link
10/4/2006 (Price: $24.99; Age: 4 and Up)



Dado Cubes by FAT BRAIN TOY CO.

Dado will engage your imagination and help develop a keen eye for design, color, shape, size, space, balance, proportion and composition. Constructed horizontally, vertically or nested together, Dado invites unlimited visual spatial development and problem solving through design-centered play. Dado features ten cubes, scaled from 1" to 5". This game is "self-expression revealed through a contemporary palette of play, " Kathy Lorkovic, at Fat Brain Toys, told TDmonthly. This product has won numerous awards, including a 2007 National Parenting Center Seal of Approval Award, a Spring 2007 Dr. Toy Best Product Award, a 2007 iParenting Media Excellent Products Award and a Creative Child Preferred Choice Award. Launch date: September 1, 2006.
— "Dado Cubes forms the foundation of a series of design-centered educational toys," offered Mark Carson, developer and president of Fat Brain Toys. Dado is "that rare toy that combines intuitive fun with fine design. Equally rare is its ability to entertain young and old alike," he added. "Beyond Dado, we have a number of products in development that have been inspired by true educational research."

Past Videos: Toy Fair 2007Specialty Retailers, have this be your link
10/6/2006 (Price: $27.50; Age: 3 and Up)



Mixed-Up Monsters (MUM) by CMX TOYS, INC.

Winner of the 2003 "Preferred Choice" Award from Creative Child Magazine. Each Monster Set makes thousands of creative characters. MUM is a multi-sensory toy and game that is fun for one child or the whole family. Every MUM set is interchangeable with every other set in the line, offering unlimited new and exciting experiences.Specialty Retailers, have this be your link
12/7/2004



Keva Planks - 100 by KEVA PLANKS

This versatile set includes 100 beautiful hardwood maple planks and a full color KEVA Guide Book. Children can play games of strategy, skill and balance with these perfectly cut, identical construction blocks that stack with surprising stability. Narrow towers can reach all the way to the ceiling. This incredible stability is achieved by cutting the planks with great precision.
— President Ken Scheel of Keva Planks pointed out that "the concept of using a construction set that only has one piece to choose from is very unique. … Each person can build with his or her own skill level and have lots of fun with it."Specialty Retailers, have this be your link
12/14/2006 (Price: $34.99)



FRACTILES by FRACTILES, Inc.

This award-winning magnetic tiling toy allows one to make an infinite variety of beautiful designs. It can be used to create starbursts, spirals, butterflies, beautiful mandalas of infinite complexity, bouquets of flowers, swarms of fireflies, spaceships, illusions of 3D space, and lots more. It is easy and creative. This product is made in the USA.
— As of 05/13/2011 this product had 4.4 out of 5 stars from 10 reviews on Amazon.com. Cons: One user said the magnets were too thin and the set was overpriced.Specialty Retailers, have this be your link
9/1/2004 (Age: 6 and Up) ENTER FRACTILES, Inc. TOYSHOW



SC-100 Snap Circuits Jr. by ELENCO

Kevin Tjaden, owner of Scientific Wizardry in Boise, Idaho, had this to say: "It's an electronic kit — kind of like the ones we had when we were kids. … It's really taken off. It also targets the right age range: 8-14, which allows for increased market share. It's become easier to use and easier to understand. As parents, everyone remembers it, but certain parts didn't work that well, certain springs would fall apart. … By solving those problems, people say, "This is like what I had as a kid, but better!"
— As of 12/17/2012 this product had 4.9 out of 5 stars from 477 reviews on Amazon.com and was No. 16 on the top 100 bestselling toys and games. PROS: Fun and educational, lots of possible circuits. CONS: Kit doesn't always explain how the circuits work.
— In a late Summer 2012 survey, four out of 12 retailers told TDmonthly that Snap Circuits were one of their best selling Science & Nature toys.
.Specialty Retailers, have this be your link
9/6/2012 (Price: $29.95; Age: 8 and Up) ENTER ELENCO TOYSHOW



Sun Deco by AMOS MARKETING INC. INTERNATIONAL

Sun Deco kits allow kids to catch the sun with paints. Like home-made stained glass windows, each kit has clear plastic models to paint with every imaginable shade from glitter to psychedelic. When the sunlight hits them, they detonate with color. Kits range in price from $0.80 to $80.Specialty Retailers, have this be your link
6/10/2005 (Age: 5 to 12)



Root-Vue Farm® by HSP NATURE TOYS

Plant carrot, radish and onion seeds, and watch the roots develop underground. Self-watering grow unit has built-in drainage reservoir and wicking system to keep soil properly moistened. Includes eight expanding soil wafers, seeds, I.D. labels, light shield to cover roots, and experiment booklet that teaches about germination, seed growth, photosynthesis, and more.Specialty Retailers, have this be your link
3/1/2005 (Price: $32.95; Age: 4 and Up)



Marshmallow Shooter by MARSHMALLOW FUN COMPANY

Shoot an edible miniature marshmallow over 30´ with this pump-action shooter, complete with LED sight for aiming accuracy. The easy-to-refill magazine holds 20 marshmallows (or foam pellets—which are included) for fast, nonstop action. The LED sight shoots a safe beam of red light to help locate a target. Barrel and magazine are top-rack dishwasher safe, and the back of the box even has a target for practice.
— "The Shooter did excellent for us this past year [2005]," said Andrew Saucier, general manager for the Marshmallow Fun Company. "We were on Jay Leno and Good Morning America. We're about to go on David Letterman, and AOL picked us as a top toy of the year." In November the company launched the Marshmallow Blaster, which fires "big marshmallows," he added.
— Warren Brown, owner of French's Toy Shop Inc. in Concord, N.H., claimed he never fired marshmallows at lax storeworkers, but later admitted, "I did use it on a couple of customers!"
— "Marshmallow Shooters are really hot," Mary Alice Miner, co-owner of Miner's Doll & Toy Store in Ocean Springs, Miss., told TDmonthly in fall 2007.

Past Videos: Product demonstration, Toy Fair 2009Specialty Retailers, have this be your link
6/28/2005 (Price: $21.95; Age: 8 and Up)



Sticky Mosaics® Fairies by THE ORB FACTORY LIMITED

Bring your four favorite fairies to life with this shimmering decorate by number kit. Each picture is a different fairy to hang on your wall. Includes four fairy designs, over 3000 sparkling tiles and jewels, and four wall hangers.Specialty Retailers, have this be your link
3/20/2009 (Price: $17.00; Age: 5 and Up) ENTER THE ORB FACTORY LIMITED TOYSHOW



Giant Gift Box - Safari by HAMA - MALTE HAANING PLASTIC AS

Children fill in animal templates with colored beads, then mom or dad irons them to fuse the beads together to make a permanent toy.Specialty Retailers, have this be your link
11/25/2009



EzyRoller by EZYROLLER LLC

This self-propelling, three-wheeled ride-on toy cruises smoothly and silently along the ground, similar to the movement of a snake. The rider simply sits in the seat, feet-first, and propels with an easy back-and-forth leg movement, demonstrating a special combination of physics properties that fascinates most first-time observers. There are no chains, no motor and no batteries. The product comes packaged with extendable axis rods (S, M, L), so it can grow with the child. "Awe-inspiring physics" and "the strong, long-lasting steel tube frame and overall quality construction" really set this product apart, according to EzyRoller President Denis Allais. Launch date: May 2007.
— Anyone can sit back and get a workout with this sleek and sporty, three-wheeled ride-on toy that moves fluidly with back-and-forth leg motion. Its long, low-set and adjustable design differentiates it from other ride-ons, as do the properties of physics that bring it to life. Such stats have garnered the Ezyroller a TDmonthly Innovations 2007 award.
— Jeanette Lauture of Aunt Jean's Toys & Treats in Montclair, N.J., told TDmonthly in summer 2008 that the Ezyroller is a hot seller in her store. "This New Zealand outdoor ride-on toy is very innovative and has longevity for kids 3 to 14 years of age," she said. "I've been selling it since October of '07."

Where to buy:
SOUTH Specialty Retailers, have this be your link
3/16/2007 (Price: $99.95; Age: 3 and Up)



Doinkit™ Dart Board by MARKY SPARKY TOYS

This dartboard set includes six balanced darts that feature N-35 Neodymium rare earth magnets and the lightweight, durable Doinkit material that keeps the darts flying perfectly true. The darts will work on any magnetic dart board.
— Owner Elaine Hackney of Boing! JP's Toy Shop in Jamaica Plain, Mass., told TDmonthly in summer 2007 that she has been selling lots of these dart boards for years. "The quality is great. The holding power of the magnets is great. The price is right," she explained.
— Doinkit Darts have been "unbelievable" for Piccolo Mondo Toys of Portland, Ore., Owner Michelle Smith told TDmonthly at the end of 2008. JoAnn Farrugia, owner of JaZams in Pennington, N.J., reported sales of about three dozen per month of Doinkit Darts in a March 2009 survey of best sellers.
— "The [Doinkit] Darts sell really well for kids and adults," said Lauren Obenour, manager of Portland, Oregon's Green Frog Toys, where the product is among the best-selling sports and outdoor toys, as of spring 2009.
— Doinkit Darts are a "longtime best seller" at Totally Thomas Toy Depot in San Diego, as reported in July 2010 by President Cynthia Wyatt. "The rare earth magnets in the darts are super strong, stay put, and don't bounce off. They're very safe and don't damage your walls. Nothing but fun!" she said.

Past Videos: ASTRA 2008Specialty Retailers, have this be your link
8/13/2007 (Price: $22.95; Age: 3 and Up)



Music 'N Play Table by CHICCO USA INC.

Chicco's award-winning Music 'N Play Table features a reversible table packed with engaging activities designed to help your baby learn through play. The electronic side includes a piano with large colorful keys, flashing lights, and fun melodies. There are 3 piano playing modes, 8 electronic tunes, and 4 different instrument sounds. The table also includes 8 'Bugs & Bees' activities that target multiple skills that are important for your baby to develop. If you flip the table over, you'll find a building block base to build on using the 10 included building blocks.Specialty Retailers, have this be your link
11/25/2009 (Price: $59.99; Age: 1 and Up)



Rock Tumbler by NSI INTERNATIONAL INC.

Heavy duty rock tumbler changes rough stones into beautiful, high-luster semi-precious gemstones. Make jewelry with settings included in this set. U.L. Listed.Specialty Retailers, have this be your link
11/25/2009 (Price: $33.98; Age: 10 and Up)



Thumb Ball by SATURNIAN 1 INC.

Put a unique spin on traditional games of catch. Two players flip a ball back and forth using thumb-activated suction cup handles-thumb on to catch, thumb off to toss. Comes with a 9" vinyl ball and two gripper handles.

Specialty Retailers, have this be your link
11/25/2009 (Age: 5 and Up) ENTER SATURNIAN 1 INC. TOYSHOW



Magic Penny by DOWLING MAGNETS

The Magic Penny kit is a great tool for investigating magnetism. The kit contains two Magic Penny magnets, 24 newly minted British 1- and 2-penny coins, one US penny and an activity booklet outlining 32 magnetic investigations. Magic Penny magnets have beautiful stainless steel covers and were custom designed to enable a large number of investigations to be done with magnetic coins. All new packaging, additional coins and more activities make this award-winning kit even better.Specialty Retailers, have this be your link
12/14/2005 (Price: $19.95; Age: 8 and Up)




Writer's Bio:
ALISON MAREK is an award-winning writer, director and cartoonist whose work has been published by Fairchild Publications and DC Comics (Piranha Press), broadcast on Showtime and other cable networks, and viewed worldwide in film festivals. See her short films and print work on www.alisonmarek.com. Watch her nefarious villains in the web series www.MuggsMovers.com. Get inspired by her cartoons "Daily ARFFirmations to Unleash Your Inner Fido" at www.ARFFirmations.com. Phew! And then ...
Read more articles by this author
THIS BANNER IS AN AD::
Recent Products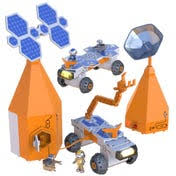 Educational Insights Circuit Explorer Rover Beginning Circuits
By EDUCATIONAL INSIGHTS INC.
» More Information