Science + Fun = Great Chemistry!
Article Synopsis

Science/Learning toys average sales of $0.5 billion.
Science/Learning toys allow parents and kids to be involved in activities together.
Science is mandated to be tested in our nation´s schools by 2007.
Aside from video games, f

ew toy categories

experienced an overall sales increase in 2004, according to The NPD Group. Science toys, though, were considered a growth category, helping sales of educational toys to clock in at $0.5 billion last year.



"The popularity of science and nature products is growing immensely for several reasons," says Grant Cleveland of DuneCraft, Inc. (ToyShow), an Ohio-based company that specializes in these toys. "Parents are growing increasingly wary of the time children are spending in front of a screen — TV, video games, Internet — and are looking for a way to connect with them and connect them with nature."

Children's natural curiosity quickly attracts them to science and learning toys, especially those that deal with the mystery of life. Bug-hatching kits and ant farms have become big sellers, and children's fascination for dinosaur-related products has not yet grown extinct.

In addition, "a surprising item I've noticed that I need to restock often is metal detectors," says Donisa Hughes, a manager of a Toys "R" Us in South Portland, Maine. "We never seem to have those on the shelves."

Kevin Kingdon, manager of The Discovery Channel store in the Maine Mall, adds that kitchen science and nature discovery kits have been a success. "This time of year, parents and kids just want to get outside and investigate things. Hands-on products are the attraction of most of the science toys," he says.

At the Southworth Planetarium, based at the University of Southern Maine, the gift shop has recently expanded, partially as a result of the increased variety of science toy offerings. Planetarium Manager Edward Gleason has noticed that the trend in science toys is moving beyond the tried and true of the past.

In fact, toy manufacturers' emphasis on exciting kids about science couldn't come at a better time. In 2007, nationwide standardized science testing will be mandated for children as young as age 8. These toys' ability to combine fun and education will continue to be good chemistry for children, parents and retail success.

The following products are top sellers according to the retailers contacted for this article.



Triassic Triops by TOYOPS INC.



Triassic Triops permits kids to hatch, grow and study the behavior of an amazing creature that hasn´t changed in a million years. The kit is easy to use. Kids just fill the tank with water, add gravel and eggs, and watch their Triops hatch and grow. Triops can grow up to 2 inches (5 cm) — 50 times larger than their eggs!

Specialty Retailers, have this be your link
8/10/2007 (Price: $9.00)




CARNIVOROUS CREATIONS by DUNECRAFT INC.

This kit allows kids to grow more than 10 varieties of meat-eating plants. The included informative booklet explains how each plant devours its prey so children can learn about these fascinating plants while they watch them grow from seed. The deluxe mixture includes the Cobra Lilly, Venus Fly Trap, Pitcher Plant, Trumpet Plant, and more.Specialty Retailers, have this be your link
2/17/2005 (Age: 3 and Up)




Creative Cosmetics Experiment Kit by THAMES & KOSMOS



The kit includes 17 different cosmetics base substances that can be used to make personalized makeup, lip gloss, body lotion, face cream and shower gel. The full-color, 48-page book guides young chemists through the science and history of cosmetics and gives dozens of beauty recipes and techniques. In addition, it teaches how to care for skin, hair and nails to keep them healthy and radiant and builds a young person´s foundation in basic dermatology.Specialty Retailers, have this be your link
2/11/2005 (Price: $60.00; Age: 12 and Up)




The GeoSafari Talking Microscope by EDUCATIONAL INSIGHTS INC.

This unique product introduces young children to science at an early age. Kids can examine all sorts of insects on 12 prepared interactive slides and listen while facts are shared about the critters. They can even switch the talking microscope to quiz mode to test their knowledge. It features a 5X focusing magnifier and a light for easy viewing. It requires three C batteries (not included).
— "The Talking Microscope allows even young children to learn about the small creatures they may see in the world around them. It is highly interactive yet easy to use and provides several levels of game play to bring out the budding scientist in children," Kati Elliott of KEH Communications told TDmonthly.Specialty Retailers, have this be your link
4/27/2005 (Price: $29.99)




Space Sand by DUNECRAFT INC.

This soil is similar, in property and color, to the soil found on Mars. This unique sand will not get wet and can be formed into shapes under water. When removed from water it becomes instantly dry. Specialty Retailers, have this be your link
5/12/2005




SUPER SNOW by DUNECRAFT INC.

Make snow instantly with this amazing Polymer. Add one tablespoon to 32 ounces of water and stir! The more you stir, the more it shines and sparkles! Super Snow expands to over 100x its size and lasts for weeks without rewetting. It has been used on movie sets and in snowboarding parks. In addition, the snow can be reused. One jar makes over 2.5 gallons of snow. It won a 2005 Creative Child Magazine The Seal of Excellence Award.Specialty Retailers, have this be your link
1/11/2005




My First Lab Microscope by C & A SCIENTIFIC

This is not only a toy, but also an actual scientific instrument equivalent to microscopes used in schools worldwide. This monocular microscope is an educational investment that encourages students to increase their knowledge through independent study. My First Lab Microscope will be a useful tool for study throughout school years and even into college.Specialty Retailers, have this be your link
5/12/2005 (Price: $122.00; Age: 11 and Up)




Hand Boilers by ARBOR SCIENTIFIC



This item is, hands down (ha ha), one of Arbor´s most popular items. Though it looks like something one might find in Dr. Jekyll´s back room laboratory, the hand boiler is pure fun. Kids hold the hand boiler in the palm of their hand and wrap their fingers around the lower bulb. Then, they watch with amazement as the liquid migrates up the tube and into the upper bulb. Eventually, the liquid in the upper bulb will appear to "boil" as air is drawn up the tube.

Specialty Retailers, have this be your link
5/12/2005 (Age: 4 and Up)




Ultraviolet Spy Pen by 5M TECHNOLOGY H.K.

The Ultraviolet Spy Pen allows kids to write invisible messages and is a perfect item for the spy master in all of us. Users just write a message on a piece of paper, and when the ink dries, the letters will not be visible unless they´re exposed to ultraviolet light. The pen comes equipped with a small UV light so the writer can show the message only to those who are allowed to see it. It requires no batteries.Specialty Retailers, have this be your link
5/12/2005 (Age: 6 and Up)




Metal Detector by EDU SCIENCE

Search for small metal objects with this fun, easy to operate metal detector! It extends from 23" to 38" for longer reach. Follow the instructions that show you how to set and handle the metal detector to look for metal. When metal is located, a beep will sound and a red light will appear! Features a high-sensitivity setting, ABS body with aluminum rod, integrated circuits, LED display and low electrical consumption. Colors may vary. Specialty Retailers, have this be your link
5/12/2005 (Age: 6 and Up)




My First Science Kit by SCIENTIFIC EXPLORER

This science introduction kit for younger kids includes a color-mixing laboratory where kids can turn their favorite colors into soft crystals, capture a rainbow in a test tube and become color-mixing detectives.
— "Scientific Explorer kits, especially My First Science Kit" are a top-selling science item at Tom's Toys Inc. in Great Barrington, Mass., Owner Tom Levin told TDmonthly in August 2008.
— Seventeen percent of 65 retailers said Scientific Explorer was their top-selling science kit supplier.
— In late summer 2009, five of 38 retailers told TDmonthly that Scientific Explorer, or a specific kit in the line, accounts for their best-selling science and nature products, though one retailer showed concern about the brand's expansion. Our best-selling line is Scientific Explorer, but that remains to be seen now that they are all in the Barnes & Noble bookstores," Diana Nelson, owner of Kazoo & Co. in Denver, told TDmonthly.Specialty Retailers, have this be your link
5/12/2005 (Price: $19.99; Age: 4 to 7)




Discovery Whodunit? Forensics Lab by DISCOVERY COMMUNICATIONS INC.

Kids can learn how to use forensic science to fight crime just as they do on the popular TV show CSI. This complete, hands-on forensic lab allows kids to solve six tough cases — each harder than the last. State-of-the-art lab instruments are used to analyze handwriting, decipher blood type and examine mysterious fibers in the search for answers. It was a winner of the 2003 Parents' Choice Silver Honor Award. Ages 8 and up. Specialty Retailers, have this be your link
5/12/2005 (Age: 8 and Up)




MX-906 130-in-One Electronic Lab Kit by ELENCO

This fun introduction to the world of advanced and beginning electronics comes complete with everything needed to perform 130 electronic experiments in one kit. It includes a fact-filled illustrated manual and requires no tools or soldering. The kit has a built-in speaker, 7-segment LED display, two fully integrated circuits and rotary controls. Each of the basic electronics parts is mounted and clearly marked on the breadboard.Specialty Retailers, have this be your link
5/12/2005 (Price: $59.95; Age: 8 and Up) ENTER ELENCO TOYSHOW






THIS BANNER IS AN AD::
Recent Products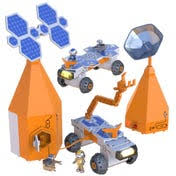 Educational Insights Circuit Explorer Rover Beginning Circuits
By EDUCATIONAL INSIGHTS INC.
» More Information