Clocks and Watches
Darmos Toys Limited

Make learning how to read a watch fun and cool with Wild Watches by Darmos Toys Limited. These digital watches come in seven wild designs, such as the shark, tiger, dolphin, and elephant. Included with each watch is an educational pamphlet about your animal of choice. Educational and easy to use! (ages 5+; $5.99 - $7.99)
The Valdawn Watch Co., LLC
Wake up to your favorite Looney Tunes bird Tweety, with the Tweety Clock by The Valdawn Watch Co., LLC. This lovely red alarm clock features a happy Tweety in the middle with a colorful background. Since this is a traditional clock, a loud ring of bells will instantly awaken you from your slumber to start your day with a bang!
CHH Quality Products, Inc.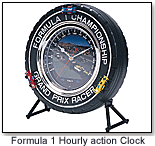 Bring some speed to your clocks with the Formula 1 Hourly Action Clock by CHH Quality Products, Inc. This awesome clock features circling racecars and sounds that go off every hour, to signal the hour. It has a light sensor that shuts off these features when the lights turn off. You can adjust the clock to fit your preferences.
Atomic Products, LLC

Get lost into the Vortex by Atomic Products, LLC who produces glow-in-the-dark watches that have psychedelic patterns and colors. With the Vortex watch, in the light it has a red and black spiral pattern, and in the dark, it has a rotating red and white glow that will fascinate all. Perfect gifts for parties and promotional events. (All ages; $20.00)