Have Yourself a Merry Little Holiday Sales Season
With Christmas sales accounting for more than 50% of annual toy sales and analysts predicting that 2003 favorites will continue to be hot sellers in 2004, retailers can look for a profitable fourth quarter.
"Electronics had a lot of momentum toward the end of 2003," said Ellen Tolley, director of media relations at the National Retail Federation. "DVD and MP3 players and digital cameras are toys for kids. While they may not have been affordable 2 or 3 years ago, I think we'll see dramatic price drops this holiday season that parents will find very appealing."
Senior industry analyst, Michael Redmond, at the NPD Group, a leading market info rmation provider, says fashion dolls, mini dolls and special feature plush dolls should continue their strong reign on the market after posting a 60 percent sales increase in 2003 over 2002. Strawberry Shortcake alone posted sales in excess of $200 million in 2003.
"Competition should be strong for the 2004 holiday season as manufacturers try to capitalize on the category while it's still hot," said Redmond . "Retailers should see sales maintain or continue to grow this year."
Despite heavy competition, don't count Barbie out just yet. Barbie is still the overwhelming choice of girls, According to Tolley. "Barbie continues to reinvent herself. She is still very strong as a brand and as a toy."
Collectible card games, family games and licensed properties should also continue to be strong sellers this holiday season.
Dolls and Miniatures
Singin' Surprise Strawberry Shortcake interactive plush doll (SRP $39.99) by Bandai (available fall 2004): With the wave of the magic wand over the storybook (both included), little girls will hear special phrases and songs. The doll also speaks 15 different phrases when her left hand is squeezed.
T*neez bendable, posable 3-inch figures (SRP $4.99) by Bandai have detailed painted-on fashions and fun hairstyles. Magnetic feet allow figures to be posed in a variety of interactive magnetic play environments, such as The Groove Mall (SRP $39.99), which includes a moving sidewalk and projected movie screen. A total of 24 different characters are available.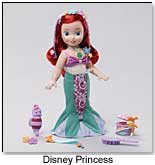 Disney Little Princess Magic Color Change Surprise Doll ($19.99) by Playmates Toys uses a special wand and water to add color to doll's cheek, lips, nails, and outfit.
Electronics
TV Games Video Game System (SRP $20) by JAKKS Pacific is based on classic video games from Activision, Atari, CAPCOM, and Namco. The controller is compact, portable and plugs easily into any standard TV. Five original Spider-Man games will hit stores in the fourth quarter of 2004.
Action Figures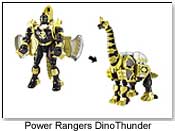 Power Rangers DinoThunder figures by Bandai: The #1 selling 5-inch Talking Thunder Power Rangers (SRP $5.99) get a new talking feature for 2004 and the 6.5-inch Thunder Zord Morphin Power Rangers (SRP $9.99) will automatically morph with the push of a button. A Deluxe Dino Stegazord (SRP $39.99) with battery operated razor-back and spinning saw is also new for 2004.
Collectible Card Games
Digimon and Superior Defender collectible card games (SRP $8.99 for starter kits) by Bandai: With plans to be a major player in this category, Bandai has launched card games after their most successful properties. Distinct game play has been created for each property and dedicated web sites will be accessible with rules, tactics, and tips.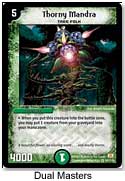 Dual Masters two-player starter trading card game (SRP $9.99) by Wizards of the Coast (ToyDirectory), a subsidiary of Hasbro, Inc.: This fast-paced game hit stores in March much to the delight of an already large fan base. Players battle fantastic creatures with unique powers from five distinct civilizations. Three new expansions are planned for 2004, with more to be released in 2005.
Family Board and Card Games
With the huge success of Pirates Cove (SRP $49.95), Days of Wonder (ToyShow) expects the same response to Memoir '44 (SRP $49.95), a historical 2-player board game that's a fast paced strategic and tactical board game commemorating the 60th Anniversary of the D-Day Landing.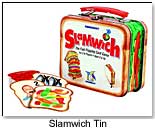 Slamwich 10th Anniversary Edition (SRP $11.99) and Wig Out (SRP $5.99) by Gamewright: Kids will have such fun playing these fast paced card games that they won't even notice that they're improving reading skills or enhancing their visual and quick reflex skills.