Building High With High-End Blocks

Quality Block Sets Foster Kids' Creativity




Though parents of toddlers are some of block manufacturers' biggest customers, it's not just kids who are doing the building, manufacturers agreed.

Specialty blocks — many of them manufactured in Europe — are where it's at these days. Yes, they're a little pricier, but they're also made of high-quality hardwoods, such as beech and maple, with vibrant nontoxic paints and stain-free finishes, manufacturers told TDmonthly Magazine. Traditional block sets remain popular, as do marble runs.

"With blocks, [children] learn about gravity, patterns, shapes and classification," noted Annie Hood, a Lebanon, N.H. mother of two. "Playing with blocks improves dexterity and fine motor control."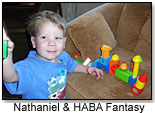 About a year ago, Hood learned about and bought her children their first set of HABA (ToyShow) beech wood blocks, a brand that has been manufactured in Germany for 65 years, but only reached the United States in 2002.

Lea Culliton, HABA's vice president of sales in the United States, told TDmonthly that HABA blocks are kept by consumers for years. It's the commitment to quality that has made their blocks so successful in the United States, she said.
Like HABA, Selecta Spielzeug, another German block manufacturer, produces blocks for high-end buyers, according to Yvonne Koepff of Selecta Spielzeug's marketing department. Selecta's Combinello set is one of its biggest sellers. This brightly painted, 16-piece set includes triangles, squares and arches from which toddlers and preschoolers can create an endless array of houses, cars, sailboats and bridges.
ABC blocks, which have been around for decades, continue to be popular sellers for Uncle Goose Toys, based in Grand Rapids, Mich. The company manufactures and sells 1 ¾-inch square Classic Embossed Alphabet Blocks that, according to company spokesman, Scott Bultman, have timeless popularity because of their quality and nostalgic elements.
Environmental friendliness has proven a strong selling point for ImagiPLAY's (ToyShow) wooden play sets and puzzles, owner Barbera Aimes told TDmonthly. The company's colorful sets are made of non-splintering, hard rubber wood. Some of ImagiPLAY's popular playsets include a zoo and the Arctic Expedition, both of which include snap-together pieces.
Though parents of toddlers buy the most blocks, the market has expanded, manufacturers agreed. HABA sells a lot of its architectural sets to adults, Culliton commented. With those sets, builders can create everything from the United States Capitol Building to the Eiffel Tower to an onion-domed Russian scene.
Hood, who owns HABA's Middle Eastern architectural blocks, noted that the sets offer lifelong appeal. "Even teenagers and adults enjoy the challenge of the architectural blocks."
Anchor Building Blocks by Wonder Works (ToyShow) are artificial stones that were first introduced in 1880 by the German company Richter. Antique sets sometimes fetch prices of more than $1,000, said collector George Wetzel of Peotone, Ill.
Anchor Blocks are often bought by grandparents, noted Lynn Whitlark, owner of Purcifal's Magical Toys in Lubbock, Texas. "The kids are aiming toward engineering and architecture … They want to bring them into something that's higher end, and that produces a beautiful result," she told TDmonthly.
Top-selling blocks at oompatoys.com include Fabolina Picture Blocks by Selecta Spielzeug; Skyscrapers, Fantasy Blocks, Marble Ball Track and Little Amsterdam by HABA; and a set of wooden ABC blocks on a wooden cart by French manufacturer Vilac.
Appealing to builders of all ages, blocks' popularity just keeps on building. Here are a few sets to get builders started:
Erste Stein by HABA USA/HABERMAASS CORP.

This small, colorful block set includes a little vehicle with a cute little block man for a driver. These blocks, which are painted in bright, non-toxic primary colors, offer different acoustic or sensory surprises.Specialty Retailers, have this be your link
1/3/2006 (Price: $25.00; Age: 1 and Up)



Sorting Blocks by BRIO CORPORATION

Sorting Blocks includes three plush shapes that children can fit into the wooden blocks with corresponding shapes, helping develop motor skills.Specialty Retailers, have this be your link
1/3/2006 (Price: $20.00; Age: 1 and Up)



Holzkugelbahn Stufe 0 by SCALINO

Manufactured in Switzerland, this wooden marble run is one of the basic starter sets the company makes, to which builders can add a wide variety of accessories.Specialty Retailers, have this be your link
1/3/2006 (Price: $45.00; Age: 5 and Up)



Medieval Castle Building Blocks by HABA USA/HABERMAASS CORP.

This 110-piece set includes 21 different shapes made of untreated beech wood. These pieces are interchangeable with HABA's other Master Builder sets.Specialty Retailers, have this be your link
1/3/2006 (Price: $48.00; Age: 3 and Up)



Threading Blocks by HABA USA/HABERMAASS CORP.

With this toy, children thread the construction blocks onto a cord, assembling them in a certain order to create cars, boats, houses and more in 2D and 3D.Specialty Retailers, have this be your link
1/3/2006 (Price: $29.00; Age: 3 and Up)



Ball Tilt by HABA USA/HABERMAASS CORP.

With this huge set, kids can create a marble run using big hardwood ramps. It includes special pieces like a bell and a zigzag ramp. Other accessories, available separately, can be added to the set.Specialty Retailers, have this be your link
1/3/2006 (Price: $75.00; Age: 5 and Up)



Skyscrapers by HABA USA/HABERMAASS CORP.

The 36 wooden blocks in this set can be stacked in limitless combinations to create a metropolis. The set comes with trees, figures and a small dog. It's made of unfinished beech wood.Specialty Retailers, have this be your link
1/3/2006 (Price: $35.99; Age: 1 and Up)



Little Amsterdam by HABA USA/HABERMAASS CORP.

Young builders can recreate a piece of Amsterdam with this 166-piece set that includes natural and stained beech wood blocks.Specialty Retailers, have this be your link
1/3/2006 (Price: $54.99; Age: 3 and Up)



Wooden ABC Blocks 2/Cart by VILAC

Set in a traditional pull cart, ABC blocks and numbers, punctuation marks and mathematical signs are modernized with a fresh font, new colors and rounded edges.Specialty Retailers, have this be your link
12/19/2005 (Price: $46.99; Age: 1 and Up)



Alphabet Blocks by UNCLE GOOSE TOYS

These classic 1-3/4" wooden alphabet blocks are made in the United States from basswood. Designed with cleverly detailed letters and pictures, they help children to spell and build while pleasing parents with their tasteful vintage decorations. The basic set comes in a wagon or box. Other variations include Braille, Braille math blocks or any of 15 different languages. There is even a version of nursery rhyme blocks.
— Owner Tom England of Dancing Bear Toys & Gifts in Frederick, Md., named ABC Blocks by Uncle Goose Toys as a best-seller in his store.Specialty Retailers, have this be your link
12/21/2004



Writer's Bio:
Margaret H. Evans is a freelance writer and mother of four. She lives with her husband and children in Bountiful, Utah.
Read more articles by this author