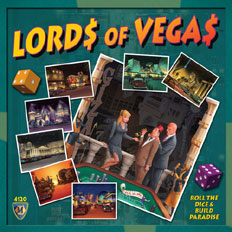 Lords of Vegas
Price:
$45.00
Gender:
Boys And Girls
Age:
12 and up
Las Vegas. The Strip. To the untrained eye, it's a sleepy desert crossroads. A wasteland of cheap hotels, gas stations, and dust. But to you, it is Paradise. Your brilliant plan? You will construct a magnificent chain of casinos and fill them with light. You will manufacture the ultimate dream of easy money and impossible luxury. You will sell-basically-nothing. You are not alone in this plan.
In Lords of Vegas, you and your friends play rival developers, building on the Las Vegas Strip. You can get ahead by building the glitziest, most glamorous, and most popular casinos. But you can fall behind by letting your enemy become your boss. Lords of Vegas is a clever strategy game with all the thrills, risks, and rewards of the casino business. You start out with empty lots, build small casinos, and expand them as your bankroll grows. Your rivals can build next door, and they just might take you over with a clever paint job or a lucky roll of the dice.
Buy, sell, trade, and gamble your way to the top as you build your empire along the storied Strip. So come on, roll the dice, and build your piece of Paradise!
For 2-4 Players.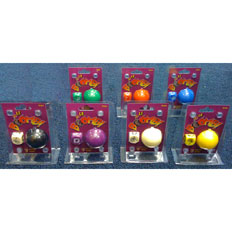 Le Boomb!™ Single Game
Price:
$4.50
Gender:
Boys And Girls
Age:
6 and up
Fun, Silly, easy to learn and loads of fun. Le Boomb!, a quick brilliant silly little game based entirely on luck, that turns any gathering into a party! A simple portable party game- fast, frantic and loads of fun! capitalizing on players desire to survive. Rules consist of 4 sentences. Here's all you need for a portable game party: 1 custom die that tucks into your special "boomb"!
Each copy of Le BoombT contains:
1 die
1 bomb (for play and for die storage)
Each display of Le BoombT contains 12 games:
6 Le BoombT
1 each Le BoombT in Red, Blue, Green, Yellow, Purple and White.
"Le Boomb" is a casual, social game for 2-16+ players ages 6 and older. You can play in about 5-15 minutes.