The Obama Action Figure
Price:
$12.99
Gender:
Boys And Girls
Age:
3 and up
Like countless others out there, we've been inspired by the meteoric rise of Barack Obama and his campaign. In a time when America so desperately needed a hero, along came a man to show us a brand new vision of what America and the world could be in the 21st century. In many ways, Obama is the closest thing we've ever seen to a superhero... someone who has literally inspired millions of people simultaneously to step past fear, to be brave enough to hope and to go past cynicism and imagine what we could be if we were at our best. That's the stuff of legend! And we wanted to pitch in.
In that spirit we created The Obama Action Figure because every superhero should have one.
The Obama Action Figure is 6" tall. He has eight points of articulation. Pose him presidentially!
Packaged in a window box which includes original Obama illustration art. For every Obama Action Figure we sell online, we'll be donating one dollar to his campaign. (Until we max out). This product is not formally endorsed by or affiliated with Barack Obama or the Obama Campaign.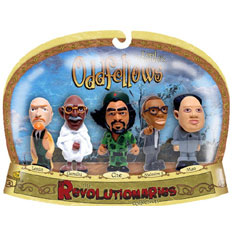 Lord Cromwell's Oddfellows - The Revolutionaries Collection
Price:
$19.99
Gender:
Boys And Girls
Age:
3 and up
Viva la Revolución! So maybe you can't take up arms and join the resistance right now. In the meantime, keeping these guys handy will remind you of your revolutionary roots and let everyone else know that you don't roll with The Man.
The set includes five figures: Vladimir Lenin, Mahatma Gandhi, Che Guevara, Malcolm X, and Mao Zedong.
Each vinyl figure is approximately three inches tall. Oddfellows have no moving parts. Packaged in a window display box with original artwork and biographical notes.