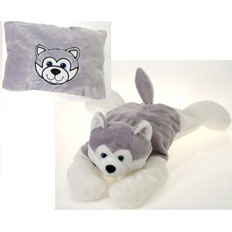 Peek-A-Boo Plush™
Price:
$20.00
Gender:
Boys And Girls
Age:
3 and up
Peek-A-Boo Plush from Fiesta. Unzip Peek-A-Boo plush pillow and turn inside out for cool Husky Dog. Unzip dog, turn inside out, and it turns back into a pillow. Soft and cuddly. Great for imaginary play value. Have your best puppy friend with you day and night.
Retail Price $20.00
(

Watch Video)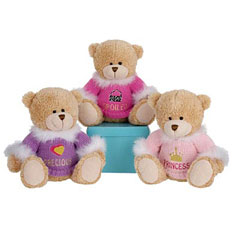 Teddy Bear Fashionistas
Price:
$12.00
Gender:
Girls
Age:
3 and up
Perfect gift for the pampered fashionista. Fiesta's 10" teddy bears stay cozy in their trendy sweaters. Sweater trimmed in frou-frou and embroidered with "Precious", "Spoiled", or "Princess".
Retail Price $12.00 each.