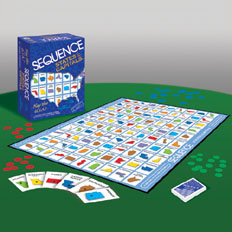 Sequence States and Capitals
Gender:
Boys And Girls
Age:
7 and up
Travel the U.S.A. the Sequence Way!
Each card has the name of a capital with it's location shown on the state. Players match the state's shape and color on the card to the same state shape and color on the board, then place a chip on that space. The first player to get five chips in a row wins the game! Players of all ages will have fun learning the states and their capitals while enjoying the fun, challenging play of the SEQUENCE game. The states on the board also feature their corresponding state names.
2-6 Players
(

Watch Video)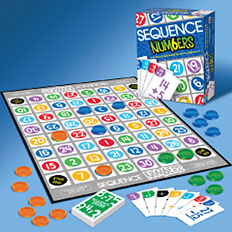 Sequence NUM6ERS
Gender:
Boys And Girls
Age:
7 and up
SEQUENCE + NUMBERS = FUN!
The cards have the equations... the gameboard has the answers. Each card has an additon or subtraction equation. Match a card to it's correct answer on the board, then place your chip there. Groups of numbers are color-coded to help with number recognition. When you have 5 of your chips in a row, you've got a SEQUENCE !
Learning math is fun when you play by the numbers.... SEQUENCE NUMBERS!